Meet Dr. Edward Cox (Chiropractor)
Getting Back in the Pool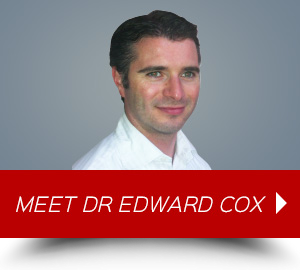 Born and raised in Calgary, Alberta, Canada, Dr. Edward Cox's journey with chiropractic care began when he was a patient of chiropractic himself. After a spinal injury as a springboard diver, the 14-year-old Dr. Edward Cox was devastated to miss an entire season of competition. Finally, after help from a chiropractor, he was so impressed by his healing experience he was inspired to become a chiropractor himself.
Becoming a Chiropractor
He was drawn to chiropractic care to be able to help people heal without the use of drugs or surgery. Dr. Edward Cox did his undergraduate work at the University of Calgary and obtained his Doctor of Chiropractic degree from Palmer College of Chiropractic West in San Jose, Calif.
He graduated in 1998 with honours and practiced there for two years before moving back to Canada. He still remembers the feeling of success when he gave his first adjustment in the student clinic.
Since graduating, Dr. Edward Cox has had the opportunity to travel and practice in Australia, New Zealand and England. Now in practice for over 17 years, he is currently a member of the Chiropractic Association of Ireland.


Embracing Life in Ireland
In 2004, he came to Ireland where he met his wife, Laura. With five children all under chiropractic care, they stay busy with their children's various activities and sports.
"Life in Ireland has been great. It has become a wonderful home to me, and I enjoy practicing in Dublin." To stay healthy, he receives chiropractic care on a regular basis and enjoys skiing and working out in the gym, running and eat healthily. "My habits combined with chiropractic care allow me to live the active lifestyle that I enjoy with my family."
I look forward to meeting you in person and learning how I may be of service to you. Give us a call and let's set up a time to explore your options.
---
Chiropractor in Dublin | 01 4910448